The Five Lands (Cinque Terre)

Trip to the Five Lands (Cinque Terre) in Italy, with excursions to Monterosso, Vernazza, Corniglia, Manarola and Riomaggiore. Hike on the Love Trail between Manarola and Riomaggiore (via dell'Amore). Trekking on the trails connecting the Five Lands and between the vineyards.
(Click on a picture to see an enlarged version)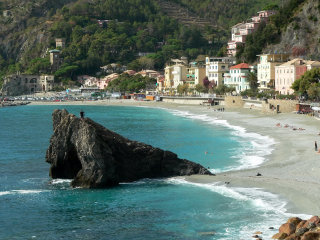 Monterosso is the first of the Five Lands for who comes from north or west. In the picture, the beach in front of the railway station.
The San Giovanni Battista church in Monterosso, built in year 1300.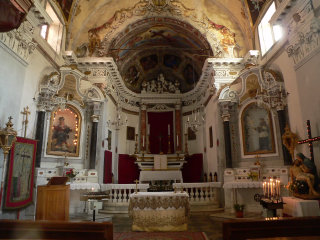 The Santa Croce oratory in Monterosso.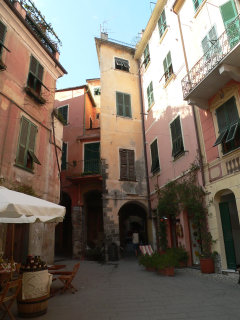 Monterosso downtown.
Vernazza is just five minutes by train from Monterosso, or several hours by mountain trekking. In the pictures, the small dock with "Santa Margherita di Antiochia" church, and a view from the top.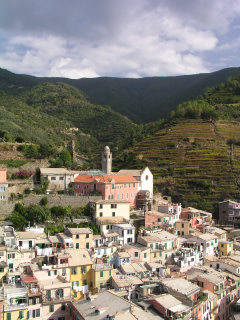 Vineyards growing in terraces over the mountains behind Vernazza.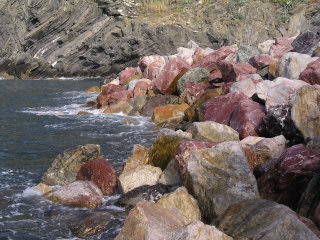 A rocky barrier used to protect the dock in Vernazza.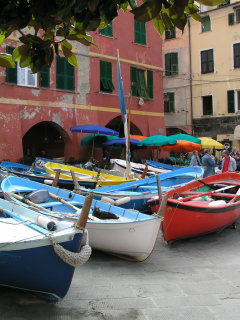 As the spaces are very limited due to the mountains entering directly into the sea, the boats are stored below the homes on the dock.
There are no roads in Vernazza, but only very narrow streets and steep stairs.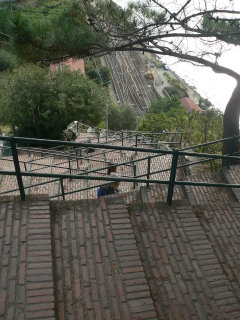 The Five Lands tour continues to the next Land of Corniglia. Here, the 380 stairs needed to get to Corniglia from the railway station.
Cliffs entering the sea, showing the typical vegetation of the area.
Hiking in Corniglia downtown.


| | |
| --- | --- |
| | |
| | Traveling from west to east, the next Land is Manarola. It is a charming town built over a rocky hill on the sea, where every available space is used for homes and small gardens. |
The Five Lands are also known because of the excellent wine produced there. Because of the mountains, the vineyards can grow only inside terraces, contained into walls made of stones. The total lenght of the walls of the Five Lands terraces, is longer than the China's Great Wall.
The San Lorenzo church in Manarola is in gothic style and was built in year 1338.



The Love Trail (via dell'Amore) connects Manarola to Riomaggiore in less than a mile.



Riomaggiore is the last, and the east most, of the Five Lands.
The tiny dock and the colorful houses of Riomaggiore.



HOW TO GET TO THE FIVE LANDS
The nearest airports are Genova, about 50-60 miles either way. Driving there is really not advised, as the roads are very narrow, winding and often not actually linking the downtown of each land. Getting there by train is much more better. The Five Lands are along the Genova - La Spezia railway, about one hour from Genova and five minutes from La Spezia. There are also many daily direct links with Pisa. If you like hiking and moderate trekking, the Five Lands are connected between them by mountain trails taking from a few hours to full day. Please check this link if you would like a taxi from Genoa airport to Five Lands.