Traveling to Venice
Excursion in romantic Venice, a city unique in the world, where is a real pleasure to hike between the water channels and in the narrow lanes without any car, but only small boats and gondola. Visit to San Marco square and other monuments.

The bridge connecting Venice to the mainland is about 3km long and has railway lines as well as car lanes. We suggest to get to Venice by train or by airplane and then explore on foot, by boat, steamers or by gondola.
Channels of water throughout the city.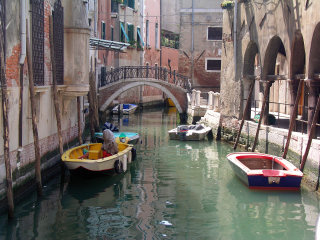 It is so wonderful without any car!
"Canal Grande" is the Venice's widest channel of water.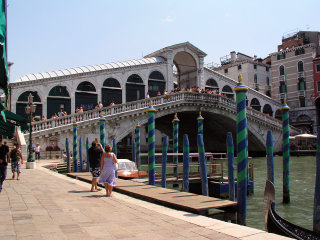 Rialto is the only bridge connecting the two sides of Canal Grande.
Other views on Canal Grande and Rialto bridge.
By beautiful gondola, it the best and more romantic way to see Venice.
| | |
| --- | --- |
| | |
| | Venice has many bridges and, after Rialto, the more famous is perhaps "Ponte dei Sospiri", connecting the old jails to the newer. |
San Marco square has many different buildings and monuments in different styles, making the atmosphere magic and unique.
The clock tower in San Marco square
| | |
| --- | --- |
| | |
| | The cathedral of San Marco is the most known Venice's church. |
| | |
| --- | --- |
| | |
| | |
| | Some particulars on the outside walls of San Marco cathedral, with their magnificent colours. |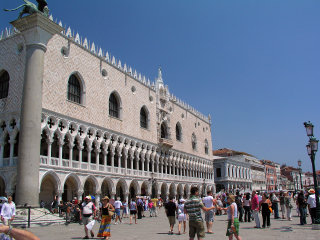 "Palazzo Ducale" (or Doge's palace) on the outer side of San Marco square.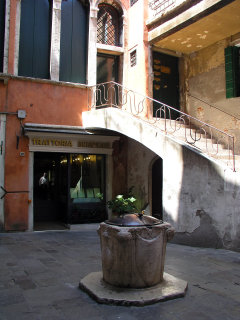 A small and charming square in central Venice.
| | |
| --- | --- |
| | |
| | Although Venice is invaded by thousands of tourists every day, there are also very peaceful places just a few minutes hike from San Marco square. |
Very narrow lanes where it is a real pleasure to walk inside.
Charming water channels far away from the crowd.
If you are looking for a taxi from Venice Marco Polo airport to Venice city, there is a local company offering cheap transfers that includes water taxi to your hotel in Venice, making your trip to Venice completely hassle-free. The transfers can be customized and service is available from Venice Airport to any other city in northern Italy.
Taxis to Venice from Venice airport and Treviso