Perugia (Umbria) - Italy

Travel to Perugia, Umbria, Italy, for an interesting medieval city trip, between beautiful monuments and interesting arts museums. A trip to Perugia is an interesting extension during a vacation in Italy, as the city is surrounded by many other interesting places, like Assisi and Todi. Perugia info.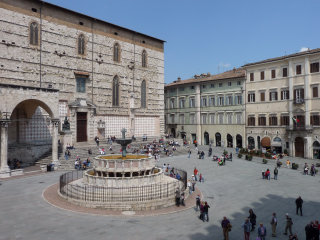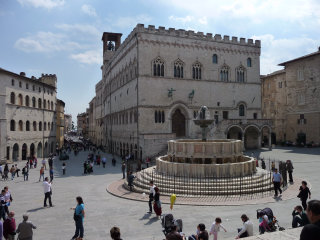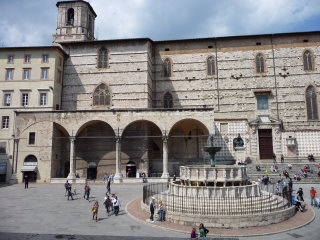 The trip to Perugia starts from central IV November square, in the heart of the city.
The fountain in the middle of the square (Fontana Maggiore) was erected between years 1275 and 1278, as arrival point for a water duct coming from Pacciano mountain. The fountain was recently restored and it's currently kept in excellent state.
Further down the square, the huge "Priori" palace, erected between XIII and XV centuries, hosts an arts museum.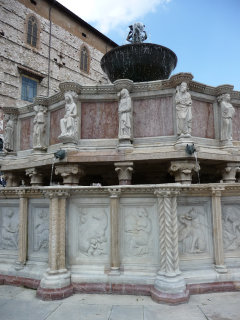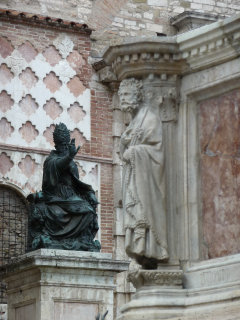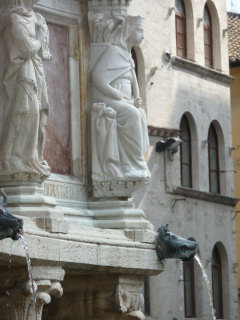 The fountain has two concentric repicients made with white and pink stones and an upper bronze "cup". All around the sides there are representations of historical and biblic figures, including scenes from daily life in a farm.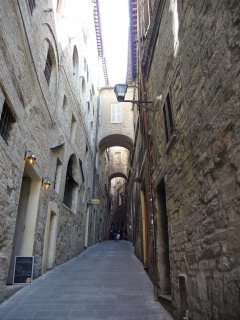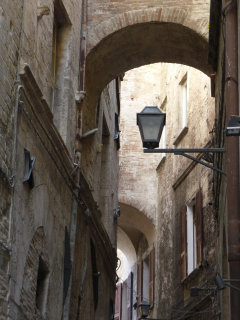 Walking between Perugia's ancient streets, where there are fine restaurant with typical italian food and nice souvenir shops.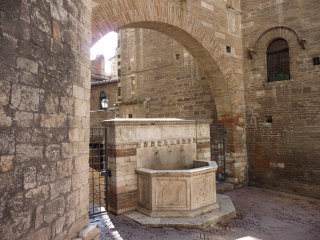 A fountain in typical medieval stule, but built only very recently.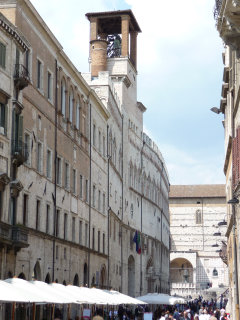 Corso Vannucci (Vannucci street) is the main street in city's historical downtown, hosting dozens of typical shops for a shopping paradise in central Italy.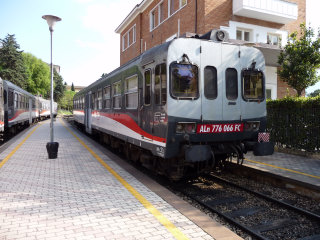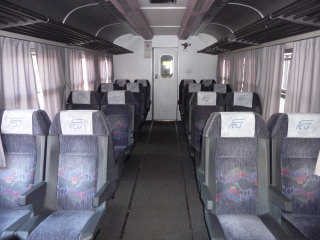 HOW TO GET TO PERUGIA
Perugia by air
The airport closest to Perugia is Perugia San Francesco (PEG), offering direct year-round flights to London Stanstead by Ryanair. During summer, additional scheduled flights are available to Rome Fiumicino and other larger hubs in Italy and Europe. Alternatively, it's still possible to arrive in Rome Fiumicino and reach perugia in about 3 hrs by train.
Perugia by train
Perugia has direct train connection with Terni by FCU (Ferrovia Centrale Umbra) and with Rome, Florence and Ancona (thru Foligno) by Trenitalia. Ride time is about 1 hrs and 20 minutes from Terni by FCU (arriving in Perugia Sant'Anna, a station conveniently located near an escalator bringing you in the downtown in just minutes). From Rome by Trenitalia it's about 2 hours and an half. From Florence by Trenitalia is about 2 hours.
Perugia by car
If you rent a car, from Rome take the route A1, exit in Orte and continue into E45 to Cesena. From Florence: route A1 exit Valdichiana, continue onto SS75bis to Perugia. From north-east and from the Adriatic sea, leave the A14 route at Cesena and continue to Perugia. NOTE: the E45 route is in bad conditions, with many holes and Police taking pictures of you, if the speed limit is exceeded. Please drive with care! Alternatively, if you would like to travel in full peace of mind, you may rent a car with a driver, waiting for you at the airport and driving you straight to Perugia.